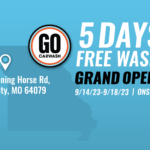 GO Car Wash Celebrates the Grand Opening of its Platte City Location with Free Washes and Community Festivities.
September 14, 2023
AUGUST 28, 2023 – Beatrice, Nebraska – GO Car Wash, a premier car wash company with over 140 locations nationwide, is excited to announce the grand opening of its 1st location in the Nebraska market at 2550 N 6th St., Beatrice NE 6831. This marks a significant milestone in GO Car Wash's mission to provide quality, convenient, eco-friendly car wash services to communities nationwide.
The new site officially opens on Thursday, September 28th, 2023, with a Grand Opening event featuring treats and a fun atmosphere. To extend the celebration, GO Car Wash offers all customers five days of Free Car Washes from September 28th – October 2nd! This limited-time promotion is an excellent opportunity for car owners in and around Beatrice to experience GO Car Wash's top-notch services at no cost.
"We are excited to celebrate the grand opening of our 141st location as we continue our mission to provide a convenient, consistent, and exceptional car wash experience for our valued customers. At GO Car Wash, we pride ourselves on eco-friendly services and a team that delivers the highest quality and customer care standards," said Megan Stresing, Vice President of Marketing of GO Car Wash.
GO Car Wash is also introducing an exclusive limited-time offer: a discounted unlimited car wash membership for $9.99 monthly for the first two months. This discounted membership will allow customers to enjoy unlimited car washes for two months, providing exceptional value for their money. Mitchell Pappas, Market Leader of the newest GO Car Wash, expressed his excitement: "This offer is our way of expressing gratitude to the Beatrice community for welcoming us. Our commitment to providing quality car wash services remains unwavering, and we look forward to meeting and exceeding our customers' expectations."
The grand opening event will feature free car washes and a community celebration. GO Car Wash will also give customers free coffee, donuts, cupcakes, and popsicles at the Grand Opening event. Kids and adults alike can enjoy a treat while their cars receive a thorough wash. Kalven Medina, Director of Store Openings, added, "We are not just opening a car wash; we are creating a space where the community can come together. We invite everyone to come down, have fun, and leave with a sparkling clean car."
As part of its commitment to environmental responsibility, GO Car Wash utilizes a water reclamation system that conserves water and eco-friendly soaps, contributing to a sustainable future.
GO Car Wash invites everyone in the Beatrice community and surrounding areas to visit the new location and take advantage of the free washes, discounted membership, free treats, and fun atmosphere.
ABOUT GO CAR WASH:
GO Car Wash is a leading car wash company with over 135 locations nationwide, providing quality and convenient car wash services. With locations in Oregon, California, Nevada, Texas, Kansas City, Missouri, Texas, and New York, our commitment to excellent service aims to redefine the car wash experience for customers. Our passionate team values integrity, teamwork, and customer care, ensuring every car receives exceptional service. With a dedication to continuous learning and improvement, we strive to be the most admired car wash company in the nation. Experience the difference at GO Car Wash. For more information, visit www.gocarwash.com.
MEDIA CONTACT:
Megan Stresing
Vice President of Marketing
megan.stresing@gocarwash.com
480-401-5134